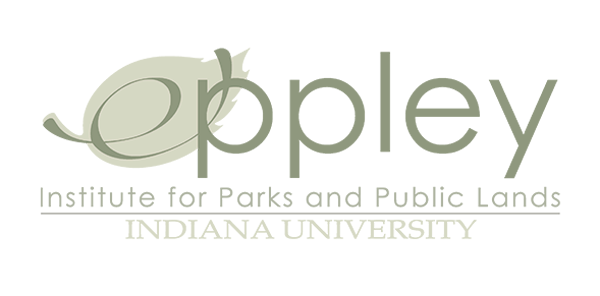 A team of Eppley staff—including Project Manager Kate Wiltz, Research Scientist Kristy Anderson (PhD), Senior Program Manager Carolyn Waters (PhD), and Graduate Assistant Ross Edelstein—traveled to Cleveland, Ohio, for the National Association for Interpretation (NAI) Conference. According to Kate, this is the conference for interpreters, which she defines as "folks who work on telling the stories of natural and cultural resources" in a variety of settings including parks, museums, zoos, and aquariums. At the NAI conference, Eppley staff sharpened their knowledge about current trends in the field, shared their research, and connected with potential partners from all over the country.
Kate regularly attended the NAI conference in the late '90s and early 2000s, so this year she enjoyed reconnecting with park professionals whom she had not seen in several years as well as bonding with new Eppley team member, Carolyn, on the drive over to Cleveland. The wide variety of sessions—from researched-based projects, to virtual reality as a tool for interpretation, to training for diversity, equity, and inclusion, were impressive and worthwhile for all Eppley staff who attended. The keynote speaker, Talon Silverhorn, Citizen of The Eastern Shawnee Tribe, was particularly memorable for Kate as he presented about interpreting indigenous stories and how to better incorporate first-nations people into the field. Kristy enjoyed a presentation about artefacts and research, wherein the speakers discussed how to use informal data collection methods to collect feedback from parks and public lands visitors.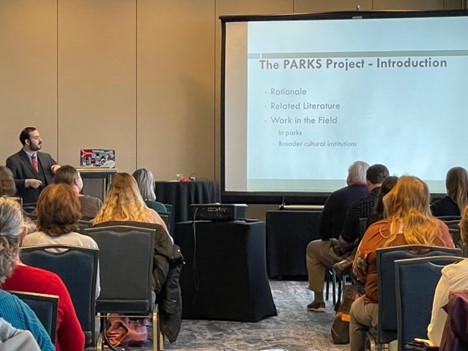 In addition to learning from others, Eppley also had a chance to share our research. Ross presented about Eppley's P.A.R.K.S project (Park Autism Research Knowledge Synthesis), which uses a participatory research method to understand what experiences people with Autism have in parks, and what ways they can be improved. Kristy and Carolyn had the opportunity to share about Eppley's resources in a plenary session. When they asked the attendees who had heard of Eppley before, about half of the people in the room raised their hands—demonstrating that Eppley continues to be a predominant organization within the parks and public lands community. Kate, Carolyn, Kristy, and Ross also facilitated a booth where they challenged conference attendees to a game of Connect 4 while informing them about how they can "Connect with Eppley 4" different kinds of parks and public lands needs, including 1) professional development, 2) learning systems development for park agencies, 3) planning, operations, and accessibility, and 4) research and analysis.
This conference, and NAI as an organization, align with Eppley in its missions and goals. As Kate points out, both Eppley and NAI, "at the heart of what they do, are striving for excellence in teaching and learning about parks and public lands." Eppley partners with NAI in our ProValens online certificate program for Intermediate Methods in Interpretation Cohort program. Eppley looks forward to continuing to attend the NAI annual conference each year as we think about new connections and new ways to partner with a variety of entities.
Learn more about the National Association for Interpretation.
Learn more the Intermediate Methods in Interpretation Certificate.