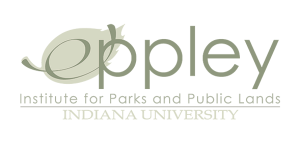 The Eppley Institute for Parks and Public Lands has been researching competencies for parks, recreation, and public lands since 1998 when it completed research for the National Park Service on training needs for maintenance, onboarding, exhibit specialists, and administration. Competency research on partnerships and fundraising, interpretation, facility management, human resources, and international park competencies has continued every 3 to 5 years since then, making Eppley one of the largest repositories of competency standards for the parks and public land management field in the nation.
For the past year, Eppley Institute worked alongside American Trails and other nationwide trail professionals representing federal agencies, trail nonprofits, and the private sector to develop a Trail Competency Framework. The project will impact nearly 80,000 city, county, state, and federal agencies who develop, manage, and steward over 200,000 miles of trails in our country.
The study adopted a two-phase approach with the intention of promoting professionalism as well as a higher level of skill for those working in trails. The competency framework will create a shared language around trail skill and expertise, create opportunities to align, integrate, and coordinate trail trainings nationwide, communicate needs for technical trail expertise, and increase the overall skill level of the trail workforce.
Phase one, which took place Summer 2021, coordinated the development of competency statements through the input of the advisory team members. Phase two, conducted Fall 2021, employed an online survey to gain feedback on the proposed competency groups and subsequent competencies. Respondents to the survey were asked to indicate the skill level that was applicable to a given competency across three levels: Entry, Full Performance, and Expert. Survey respondents totaled 220 individuals representing a variety of government institutions at state and federal levels, and nonprofit or private institutions. Of the respondents, 21% have 16-20 years of trail experience.
Dr. Kristy Anderson, the Eppley Institute Project Manager, presented the Trail Competency Framework Project together with James Freeman of Virginia Tech and Trailhead Consultants at the Professional Trail Builders Association Conference in Bentonville, Arkansas, in March 2022. The conference session received a lot of interest with over 50 people in attendance. As a follow up to the Trail Competency Framework project, the Eppley Institute began a new project with American Trails in January 2022 to develop a series of e-courses that will build upon the competencies by providing online training in several topics related to trail design, management, sustainability, and careers.
Mike Passo, Executive Director of American Trails says, "Thank you so much for all of your professionalism and thoughtfulness in accomplishing this project. It is such a great outcome from my standpoint. It's been a true pleasure working with the team at Eppley."
In addition to the competency framework work with American Trails, Eppley Institute will also be revamping the current competency framework with the World Parks Academy.
Eppley Institute knows how vital competency frameworks are for park organizations and professionals. If you are interested in creating a competency framework for your organization, please reach out to us at eppley@indiana.edu.